Team leader – Brian Binnerup
My name is Brian, I currently live with my Finnish Lapphund Mera, on what once was a farm, near Aarhus, having until recently lived with three Finnish Lapphunds, and have plans for getting another. Mera and I are currently taking a competition break, but are otherwise competing in the Champion class in Rally Obedience. Besides competing, I also teach Rally and judge competitions. I very much look forward to being a team leader for the Danish National Team, and hope to make the competition smooth for our competitors.
Annette Grønbæk Jensen and Archie
I live in Aarhus with my family and our 3 dogs, 4 horses and a cat.
I work as a Gartner for Decoplant and teaches Rally and Agility in a local dog training club DKK-Viby.
I just love to spend time and train with my dogs, and I like to hike in the beautiful nature, with the dogs.
I have been competing in rally and agility for about 9 years with my Danish/Swedish farmdog Buster and Archie.
Archie is a 9 year old Border Collie. He is so sweet, sensitive but powerful and loves to work.
Merits:
He won gold in the Danish Rally Championship in 2021 and 2022.
And he won silver in the Nordic Rally Championship in 2021.
Birgitte Roensner and Linus
I live right in the middle of Denmark with my husband, Nick and my dog, Linus. Nick and I have two grown boys, who lives with their fiancés. I work as a manager of a large daycare, with 90 children and 17 employees. Linus is my 4th dog and is a Border Collie, 8 years old.
We have been training Rally Obedience since he was 2 years. We have been working with other obedience but Rally is our favorite. Linus is used to travel, because we go hiking abrought. We also go running and take long walks.
My strengths: I have been training dogs since 1992, and have a lot of experience in how to work only with positive reinforcement. I know Linus so well and this makes me aware of the little things he tell me. This makes me able to train him with the right kind of support.
I am very good with the exercises in Rally Obedience and is a good support for Linus.
Linus strengths: Linus is a happy, hardworking boy, who never gives in before I tell him to stop. He has good movements and loves to cooperate. Linus is always in a good mood and we play a lot when we are training.
Our merits: Linus has won a lot of titles. Our high is winning the Danish Championship in 2020, Dog of the year 2020 and 2021. This year he won Copenhagen winner, Region-winner and Champion of Fünen (These are local competitions in Denmark) Linus is also an obedience champion.
Helle Kristensen and Tika
Tika, my 7 year old Border Collie have had a great journey to get to the Nordic Rally Championship. Tika is perhaps best at training and working, she have some drives that makes it fun to dig deep into. She always performs at her best when we are training together, and I become super happy when training together with Tika. Tika and I do other things than Rally together – we train Hoopers, which I can see that she also loves, and we train Nosework, where she is someone to just go all in for it when looking for the scent. We also participate in obedience in the Danish Kennel Club, and are part of the elite, because Tika just loves to work. I so much love working with that dog.
Mette Tranberg Nielsen and Kenya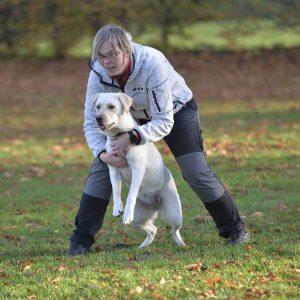 I live with my husband Ronnie and Kenya, a 4-year-old labrador retriever in Aarhus in the Central Region of Denmark. I work as a cancer scientist at Aarhus University and Antwerp University in Belgium. In my spare time I love to go for long walks with Kenya and together we forget all about time and place. Rally Obedience is our favorite dog sport, but we also practice nose work. Kenya is my first dog and we have trained rally for three years.
My strengths: I am a fast learner and I am very good at observing and by that, changing small elements to get new and better results. I also always try to understand my dog and be positive and constructive about the excellent feedback she is providing to me so we can try to improve different exercises. Most importantly, I just love to be with Kenya- she is my soulmate and she makes me very happy!
Kenya strengths: She loves to work and is always in a good mood. She also loves to play and learn new things. She is a fast learner and keep me on my toes. I also love her intense gaze when she does her very best to understand what I want from her.
Our merits: Kenya became DKK Rally Obedience Champion in 2022. We have qualified for the Danish National Championships three times, once in beginners, advanced, and expert class. This year in expert class, we got a 6'th place. We are looking forward to be part of the National Team Denmark in this competition.
Paul Lysholdt Rasmussen and Max
My name is Paul Lysholdt, I will participate with my border terrier Max.
I live in Solrød Strand 30 kilometres south of Copenhagen with my wife Kirsten and our two border terriers Max (11 years) and Otto (3 years). We have a son Christian, a daughter-in-law Sandra, and three grandchildren: Frasse (8 years), Leo (6 years) and Leah (4 years) living in Oxie in Sweden.
I am working full time as a project manager in Nexi/Nets. I have considered retiring, as I will be celebrating my 70 years birthday just before the championship, but new working opportunities have turned up, so I am still working fulltime.
A big hobby of mine is wine, I consider taking a sommelier education next year.
But mostly my spare time is used with dogs.
I have trained and competed in dog sports more than 30 years, the latest 18 years in Obedience, Nose Work, Heelwork to music, Freestyle and of course Rally obedience. I love training dogs and I deeply believe that my dogs don't make any mistakes; if anything unexpected happens it's because I haven't trained them well enough.
I judged at the two first championships, but look even more forward to this third time, now being part of the Danish team with Max.
Max, though being a border terrier, is a very sensitive dog, and if I am not totally in balance, he will response immediately. He is maybe the main reason for me using a coach and work intensively on the mental part of the game. For me the important thing is that my dog and I are training and competing as a team, when I FEEL that we are doing this together, when its apparent for others that we are enjoying being on the course together. Not a second do I think about points and results.
Max and I have been training and competing in many disciplines and earned many merits. To name a few: LP2 (Obedience), HTMF and TKP(US) (tricks), HTM2 (Heelwork to Music), FS1 (freestyle), NW1 (Nose Work) and a lot of titles in rally including DKRLCH, DKRLSCH and RLCHS. We have also been representing Denmark earlier: we were on the Danish national team in Heelwork to Music in 2017.
Photo © Grafiko.dk
Annette Susann Balle and Asti (Reserve)
My name is Annette Balle and i am sixty-seven years old. I am a former nurse, but now I'm enjoying my retirement.
I spend most of my time with my three children and six grandchildren.
My hobbies besides dog training is making willow art, and flower decorations.
My dogs name is Asta, she is a Four years old Shappendoes.
We live on a farm in the country side in Jutland, near a big forest. We walk in the forest every day with our two dogs.
Asta has an older sister whom she loves to run free and play with.
I have trained Rally Obedience for five years now. We first started when Asta was a puppy and we both enjoy it very much. She is Rally champion and have attended the Danish Championship in 2021 and 2022.
Our Motto is: IT HAS TO BE FUN.
Asta is a very polite dog – But she can be a bit nervous in new environments. Though she is a very happy dog overall.
We are looking forward to going to Finland.
Mette Wulff-Jensen and Louis (Reserve)
Louis and I live together with my husband, Jonas. We live on a farm in Randers, Central Jutland, Denmark. Louis is a three-year-old Shetland Sheepdog. I work as a Tax Officer at the Danish Tax Administration.
Louis is my first dog. Louis and I love rally obedience and have been training rally for a little more than 2 years. We also like herding, agility, and tricks.
Louis and I compete in rally advanced class in Denmark.
Louis is a happy boy and a fast leaner. It rarely takes him more than a few minutes to learn a new exercise, and when he can do it on one side, he can usually do it on the other side as well. He is an incredibly honest boy and he clearly tells me if I push him too much. This has helped me to be incredibly aware that I make the training varied and fun.
Louis is always up for fun and trouble and besides training and competitions, we like long walks in the forest and on the beach – Louis loves to run into the ocean.