Team Leader / Trainer Anette Buind Nordby
I live near Jessheim with husband and my two dogs – Tzili Belgian Sheperd an Zara, Border Collie. I`m a rally instructor and active competatior with both my dogs in several dog sports, but mainly rally Obedience.
My strenghts as a team trainer is a big focus on very small details that leads to a bigger picture and good results. My passion is solid foundation behaveiors that makes rally obidience a breeze.
Audhild Mæland & Molly
I live in Stavanger with my husband and and two Border Collies.
I have competed in different dog-sports, but in 2017 I was introduced to Rally Obedience and fell in love this sport where age and breed does not matter.
My strenghs: I try to be a good commumicator to my dog, so its easy for her to understand what to do. O love to focus on detail and it seems that Molly enjoys it too.
Molly`s strenghts: She is a riendly dog that loves everybody. She is easy to train and always tries her best. She loves treats, toys, and me. She is simply the best.
Molly`Merits: Chocomate`s Harry Molly My is Norwegian National Champion 2018, 2010 and 2022 , she has been a part of the Norwegian National team since 2019.
Mette Nilsen & Giggs
I live at Brånåsen, north of Oslo. I have two sons, the youngest still lives at home. Dogs have been part of my life for over 30 years, but Giggs is the first dog I have trained to compete with. We have also competed in obedience
My strengths: Goal-oriented and structured.
Giggs' strengths: He loves training and has good mentality.
Giggs' merits: Giggs is Norwegian and Swedish Rally Obedience Champion. Finalist in the Norwegian championship the last four years. Attended NoM Sweden 2021.
Hege Ertvåg with Vegas & Phoenix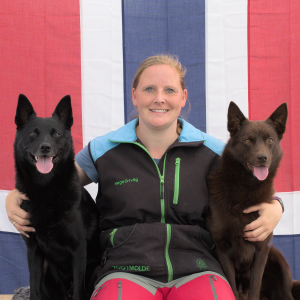 I live in Molde with my 3 Australian Kelpies. Dogs have always been a part of my life and I've had huge interest in dog training and the theory behind it. I'm so excited and I look forward to new experience with my dogs.
My strengths: I love to train dogs and enjoy the challenge I get in both training and competitions. I value the feeling I have when competing, the dog's performance and joy higher than any result we gain.
Vegas' strengths: Vegas loves to work and has a high will-to-please. He is strong in any environment and loves challenges. He always strives to do his very best and shows a very loyal companionship to me as his handler.
Vegas' Merits: Aussie Action's Black Quick-Step aka Vegas is Norwegian obedience champion. Norwegian rallyobedience champion. 11th NM rally obedience 2020. 5th NM rally obedience 2021. Approved in several norwegian mental and functionality tests. Norwegian working dog tracking trial class B. Also showchampion in several countries. Vegas was first reserve in the Norwegian rallyobedience team 2021.
Phoenix' strengths: Phoenix has a high will-to-please and gets very very excited. He is strong in any environment and really enjoy working close with his handler. He is a very gentle and loyal dog.
Phoenix' Merits: Cefeus Blazing Phoenix II aka Phoenix is Norwegian obedience champion. Norwegian rallyobedience champion. 7th NM rally obedience 2020. 10th NM rally obedience 2021. Approved in several norwegian mental and functionality tests. Norwegian working dog tracking trial class C. Also showchampion in several countries.
Stine Strander & Keira
I live in the rural areas of Norway close to Lillehammer with my man and two norwegian Buhund.
Dogs are my big love in life , and it became extra fun when I started compenting and our team bond sevelope into what we have today.
I started with obedience and agility before I was hooked on rally obedience.
Keira has never competed in anything else. I have competed in rally obedience since 2016 and Keira had her debut one year later.
My strenght`s : I`m very focused and have a well-developed compririve instinct. I won`t give up and work very hard when I`ve set a goal I want to achieve. My understanding and knowlegde about my dogs are very good.
Keira`s strenght: Keira loves to train rally obedience. She shows lots of energy and great endurance and one of her cute thing is that she is very pleased with herself after succeeding in something we are working on. She is very sweet and our bond is very strong wich makes her really give it her all when we do things together.
Keira`s merits: Fantejenta Caja aka Keira is Norway`s first buhund to achieve the rally obedience championchip, Norwegian national championship 2nd 2020, 3nd 2019, Reserve NOM 2019 ,Denmark, 4th induvidual NOM Stocholm 2021
Michelle Malmåsen & Cnø
I live in Sarpsborg with my man 7 dogs, 6 Hovawart and 1 Border Collie. I started my dog career in 1999 with obedience. In 2015 I was introduced to rally obedience which has become my great passion in life. I work full time as a dog instructor and breeds Hovawart and Border Collie. In 2019 I was the team trainer for the first Norwegian national team. Dogs are my life and I love it.
My strenghts: I`m focused and love to work with details. My work ethic is very high and I`m not afraid of challenges. My way of training is purely positive and fair dog training.  I have a strong mental focus in competitons and strive to be a safe and clear handler for my dogs.
Cnø`s strenghts: She is very positive, happy and loves to work with me. She has an extreme will-to-please and is easy to motivate. Her focus and work capacity when working on detailsi in endless.
Cnø`s merits: Kjæråsen`s Cnø, aka Cnø is Norwegian winner class 3 rally obedience, Norwegian honorary class elite rally obedience , 6th Norwegian national championchip 2020, 4th Norwegian national championship 2021.
Geir Ove Håkull & Snella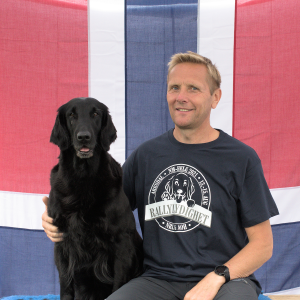 I live in Egersund with my wife, Janne, who also competed for a spot on the national team this year. We've had flat coated retrievers since 1996 and been a breeder since 1999. I started with dog training in 1998 during my time in the military. After that I have competed in working dog trials and obedience. We have been training and competing in rally obedience for 3 years and we love to hold classes in our local club, Dalane Hundeklubb. I love rally obedience and I'm so excited to be a part of this team.
My strengths: Focused, stubborn and won't give up until my goals are achieved.
Snellas strengths: Easy to train, environmentally stable and has a good mentality.
Snellas merits: Miss Mallory's True Love aka Snella is Norwegian rally obedience champion. Norwegian national champion 2021. 2 CERT open class show. 1 CERT obedience class 3. Place retriever hunting. Place working dog scent trials class D and C. 18th